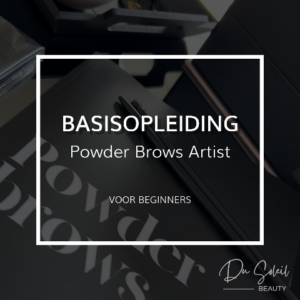 Over deze opleiding
Word in minimaal 4 dagen opgeleid tot een volwaardige Powder Brows & Acute Removal Specialist. Je leert in deze basisopleiding hoe je mooie Soft Powder Brows met zachte genezen resultaat kan creëren, en ook hoe je oude PMU wenkbrauwen kan corrigeren, oplichten en/of verwijderen.
Starterskit
Onze starterskit bestaat minimaal uit:
Onze favoriete PMU apparaat
PMU Removal vloeistof
40 naaldmodulen
Een uitgebreide theorie boek (> 100 pagina)
5 DMT Beauty pigmenten
DMT Beauty pincet en wenkbrauwschaar
50 Inktcupjes met een cupholder
DMT Beauty concealer en concealer kwast
50 wenkbrauw liniaal
2 x mappingstrings
4 Brow mapping potlood
10 Scheermesjes
Plastic folie
PMU Caliper
Tape
Oefen latex
100 Cord sleeves
100 Microbrushes
50 Lip brushes
1 Kleurenwiel
Met onze starterskit kan je minimaal 40 klanten behandelen.
Liever privé opgeleid worden?
Deze basisopleiding kan je ook privé volgen:
Startdatum en tijdstippen in overleg.

Je krijgt 1-op-1 begeleiding en alle aandacht. 

Tarief: €3200,- Inclusief Starterskit, Removal vloeistof, PMU apparaat en naaldmodulen.
Betaalmogelijkheden
Een aanbetaling van €500,- (Incl BTW) – is vereist.
Optie 1: Het resterende bedrag dient voor de cursus volledig voldaan te zijn.
Optie 2: Het resterende bedrag in 2 maandelijkse termijnen betalen. Neem hiervoor eerst contact met ons op.
4-DAAGSE BASISOPLEIDING
POWDER BROWS ARTIST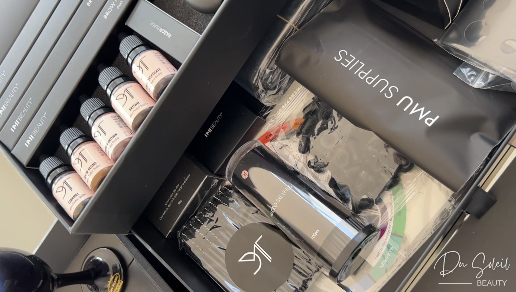 In minimaal 4 dagen wordt je opgeleid tot een volwaardige Powder Brows & Removal Specialist. Je leert dus niet alleen hoe je mooie Powder Brows met mooie natuurlijke genezen resultaat kan aanbrengen, maar ook hoe je ze kan corrigeren en oplichten/verwijderen. Er wordt ook aandacht besteed aan je portfolio opbouw, marketing, fotografie en ondernemerschap.
Het curriculum in een notendop
Lesdag 1:  Je leert over de verschillende huidlagen, verschillende ondertoon van huidskleuren en pigmentkeuze, de pigmentatie in de huid, kleurenleer en pigmentleer van de bekendste merken op de markt.
Lesdagen 2: We gaan focussen en verdiepen op de verschillende machines op de markt, naalkeuzes, de diverse Powder Brows technieken, kleurkeuze, correcties en acute removals. Op deze dag gaan we oefenen met het zetten van contour en het opvullen van de wenkbrauwen op latex.
Op lesdag 3 kijk je mee met een demonstratie en leer je ook in de praktijk o.a. hoe je het beste jouw studio kan inrichten, hoe je een intake uitvoert, hoe je jouw werkplek klaar legt, de behandeling uitvoert en afsluit met de cliënt.
Op lesdag 4 ga je je eigen model behandelen onder toezicht. Na afloop ontvang je een certificaat van bekwaamheid.
Optioneel:
Op jouw verzoek kunnen we 6 weken later een 5e dag inplannen zodat jij de nabehandeling van jouw model onder toezicht uit kan voeren.
Niet geslaagd?
Dan krijg je een gratis herkansing en hulp om alsnog gecertificeerd te worden.
Vragen?
Stuur ons een e-mail via opleiding@dusoleilbeauty.com voor meer informatie.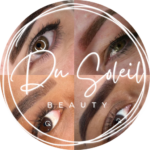 WAAROM KIEZEN VOOR EEN OPLEIDING BIJ
DU SOLEIL BEAUTY
Freelancer worden?
Heb je je opleiding bij ons afgerond? Gefeliciteerd! Je mag direct na het behalen van jouw certificaat 1 maand onder bepaalde voorwaarden freelancen bij Du Soleil Beauty zodat je nog meer praktijkervaring opbouwt.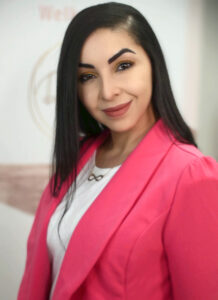 Jouw trainer: Nohemy

Hbo-verpleegkundige (BIG geregistreerd), praktijktrainer, PMU-specialist en PMU & Tattoo Removal Specialist.

Volg jouw training bij Nohemy en laat haar jou in een volwaardige specialist opleiden!

 

¨In de afgelopen 7 jaar heb ik meer dan 1000 studenten succesvol kunnen opleiden. Met veel plezier breng ik o.a. mijn medische kennis, hygiene kennis en PMU technieken aan studenten over zodat zij ook goed voorbereid zijn om mooie resultaten te kunnen behalen bij hun klanten.¨  – Nohemy
Opzoek naar een wenkbrauw specialist, laser removal specialist, PMU specialist of opleider?
Neem contact met ons op via de onderstaande kanalen of vul het contactformulier in.